"When truth is gone, nothing is stable, and no one is safe."
For several weeks, I've been toying with the notion of a wealthy international real estate tycoon coming under the influence of, say, a beautiful eastern-European model, whom he marries. She becomes integral to the magnate's empire, an expert in the operations of his business…& his mind. As both a child of Stalinist Soviet society and a fashion model, she is familiar with manipulation of appearances an
d other stimuli to produce a programmed response. She teaches the tycoon well, & he rises to the highest levels of prominence in the land. After they divorce, she remains a trusted, invisible power behind the throne….
Then, recently, I came across this "Slate" article which explores "the psychology of the nationalized lie." Here are a few excerpts:
"Trump shares several important traits with his ally Vladimir Putin—foremost among them, the deployment of outrageous lies as a political tool."
"When falsehood invades the highest offices in the land, it forces the population into a surreal doubleness where there are two sets of memories, two account books, two realities that must be contended with. This chokes those who want to operate through a legal framework, according to the rules, since the rules now apply to a fantasy; a complicated strategic triangulation is always necessary to produce a real result. Opponents have to struggle continually with cognitive dissonance."
"A regime can work a population so that they don't object to even the most bald-faced lie. There is no safety in numbers, even vast numbers, if no one speaks up."
"This gives some idea of the costs that can be incurred when truth is inundated by falsehood. The parallels are useful both for understanding the psychology of the nationalized lie and for glimpsing a worst-case scenario. But the worst-case scenario is exactly that, as we should remember before plunging ourselves into a sensationalist panic. Trump seems most interested in kleptocratic plundering, a model of misgovernment very different than the mass murder of Stalinism. On the other hand, it's hard to precisely calibrate an appropriate sense of disaster when the president-elect's campaign promises (soft truths, to be sure) include locking up and inciting violence against his opponents, and rounding up and deporting millions of Americans based on national origin or religion. In the barrage of untruths, no one can tell which whoppers Trump plans to make good on. His unreliability is for this reason seen as a plus by his most humane followers, who tell themselves he has lied about the bad parts. It is also one of the things that destabilize resistance to him—either by the left or the right."
The mainstream media and a sizable chunk of the general populace have been sucked in by Mr. Trump's mind-fucking techniques. I'm glad, finally, to see some analysis of the psycho-social aspects of the Trump phenomenon.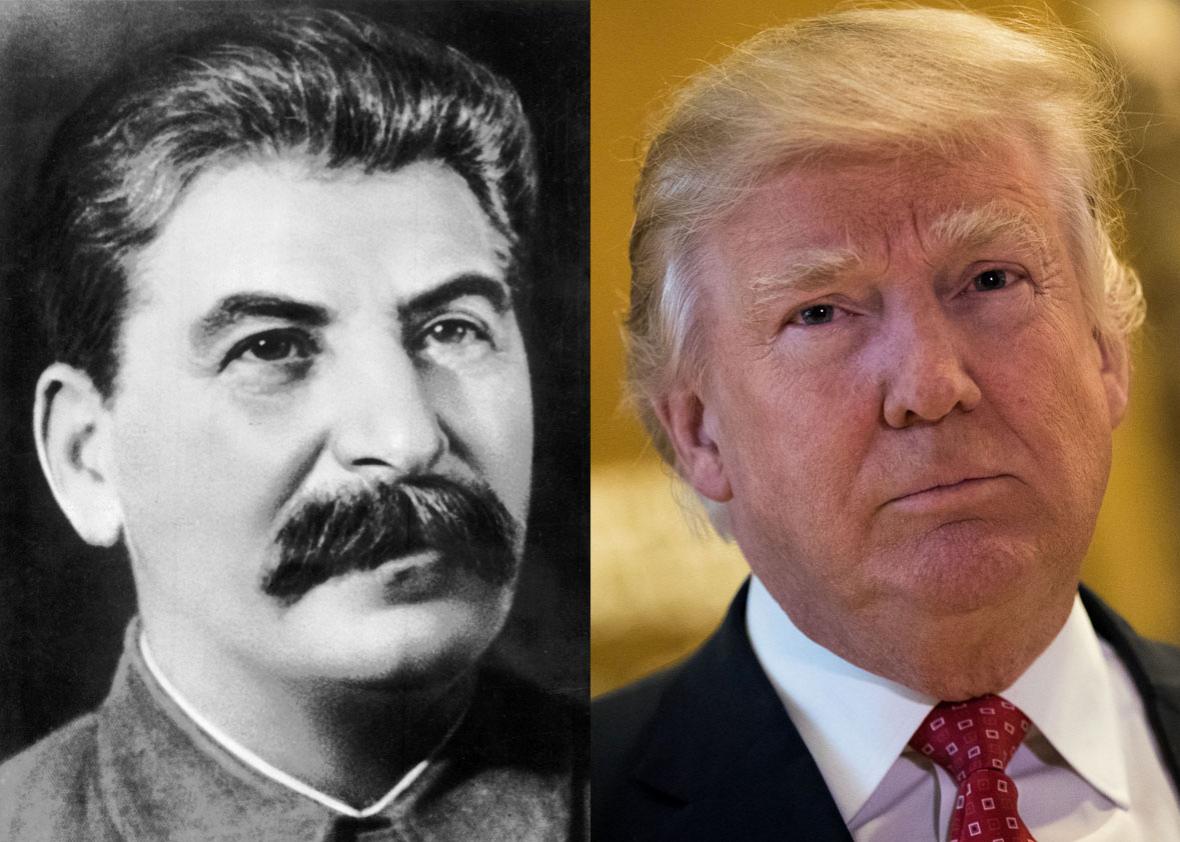 Donald Trump shares several important traits with his ally Vladimir Putin—foremost among them, the deployment of outrageous lies as a political tool. P …
On the advice of my financial advisor, with whom I raised an eyebrow about The Donald's East European entanglements, I am reading Bill Browder's Red Notice, which promises to detail how Putin and a few dozen oligarchs control Russia. Browder ran a very successful hedge fund that prospered by investing in the privatization of former Soviet economies. I'm hoping for insight into how Trump may have dealt with that system. Perhaps his tax returns, which rumor says will soon be (Wiki?)leaked, will have clues.